How to use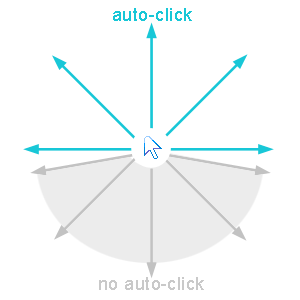 Just point the mouse cursor at what you want to click.
The cursor will automatically click whenever it stops moving, except when moving down-right.
To "park" the cursor without clicking, end your movement by moving the cursor down-right.
The cursor will automatically grab hold of vertical scrollbars, and release when you move the cursor away from them.
Hold SHIFT (instead of the mouse button) to click-and-drag.
Press F10 to turn auto-clicking on or off. The on/off status is shown in the taskbar's tray icon.
Press F10 and ESCAPE together to shut down the program.
Tips
After clicking, just leave the mouse where it is.
Make a habit of looking at your target before moving the mouse.
The program does not automatically double-click, but pressing ENTER on a clicked item has the same effect.
Create a taskbar shortcut to the program. If you activate the shortcut by pressing the Windows key + 1 (when listed as the first taskbar shortcut), then you will also be able to turn auto-clicking on and off with those keys instead of F10.