How to use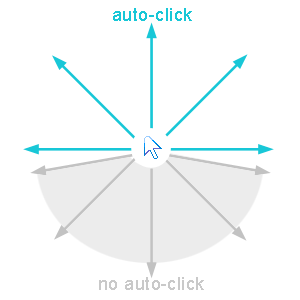 Just point the mouse cursor at what you want to click.
The cursor will automatically click after moving upwards or straight horizontally.
To "park" the cursor without clicking, move the cursor downwards.
The cursor will automatically grab hold of vertical scrollbars, and release when you move the cursor away from them.
Hold SHIFT (instead of the mouse button) to click-and-drag.
Press F10 and the PAUSE key to turn 30-minute break reminders on or off.
Press F10 to turn auto-clicking on or off. The on/off status is shown in the taskbar's tray icon.
Press F10 and ESCAPE together to shut down the program.
Tips
After clicking, just leave the mouse where it is.
Make a habit of looking at your target before moving the mouse.
The program does not automatically double-click, but pressing ENTER on a clicked item has the same effect.
Create a taskbar shortcut to the program. If you activate the shortcut by pressing the Windows key + 1 (when listed as the first taskbar shortcut), then you will also be able to turn auto-clicking on and off with those keys instead of F10.